Online Learning: Useful Information
Below are a number of online resources which may be useful to you while learning at home.
A Student's Guide to Online Classroom Etiquette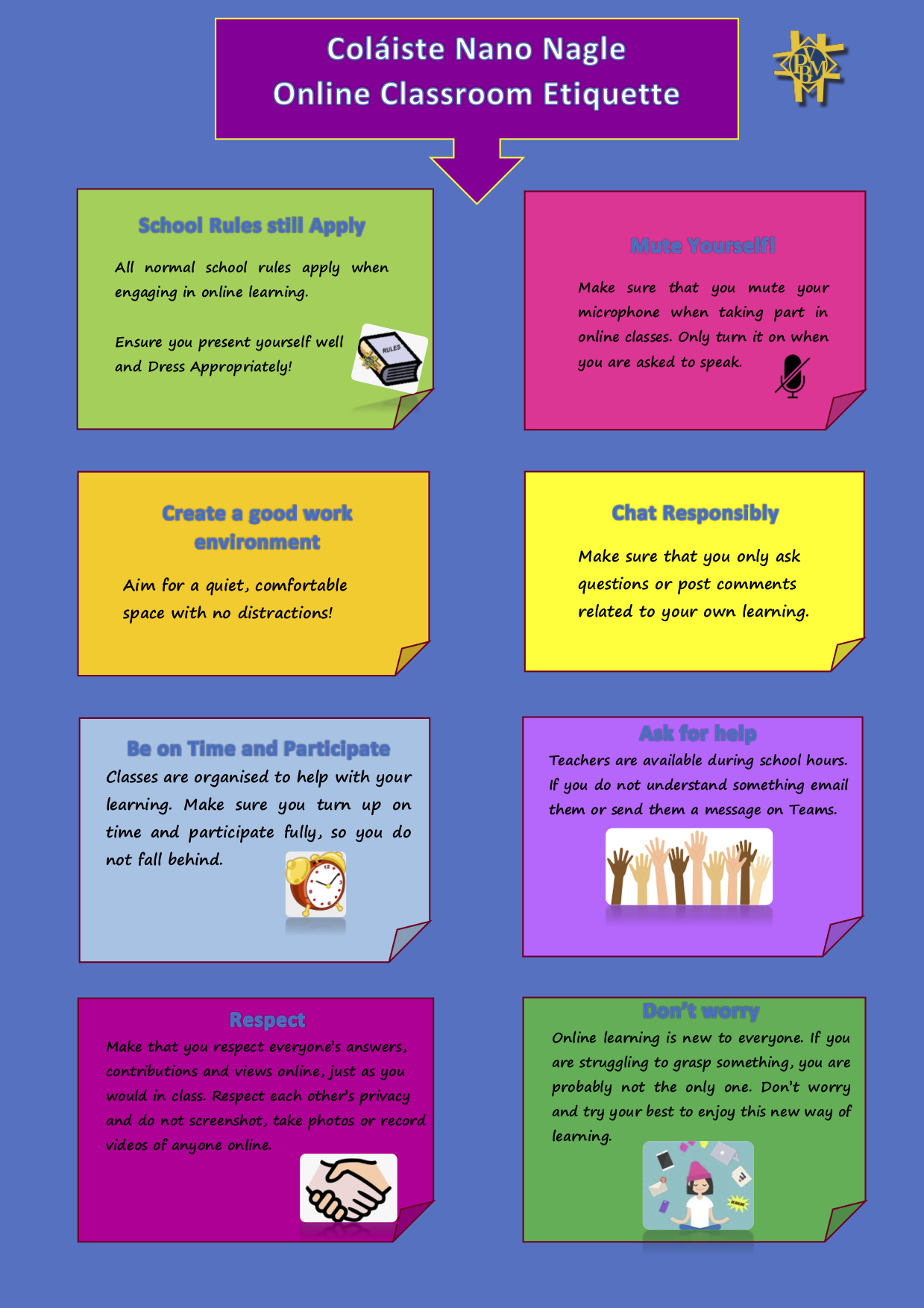 Access to Ebooks Online
Folens Publishers – Free Access

To help support Teachers/Parents/Students at home Folens are offering free access to all digital resources and eBooks from their website. Register as a teacher and use the special code below Sec20 for the School Roll Number
Secondary school resources: Sec20
The Educational Company of Ireland
To help teachers and students during the school closures The Education Company Ireland are giving free access to all resources for both Primary and Secondary schools. Simply register on their website using any of the codes above.
CJ Fallon
Gill Education
Exam Papers
Previous Leaving Certificate Exam Papers and Marking Schemes are available on the State Examination Commission Website. This will help you when revising.
Scoilnet

There are lots of resources available for all levels and all subjects at scoilnet.
iRevise

iRevise are giving all students free access to their premium services for the month. To get free access use the code STUDYCENTRE at checkout and you will have free access until you go back to school.
Schoology

Schoology has a full range of online tools designed for running school classes remotely.
Educate Plus
To help students study at home while schools are closed Educate Plus are providing FREE access to all ebooks and student resources from their website.
UL Access Study Club
The UL Access Study Club is now available online, and have a range of resources available for their students.
Ashfield College – Leaving Certificate Maths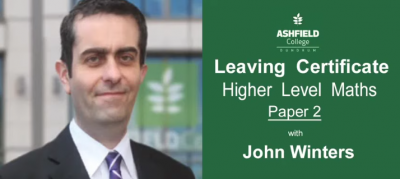 This video will guide Leaving Certificate Maths students through the mock exam which was recently completed by students in Ashfield College. The solution was completed live so the video includes student questions. Both videos are now available on YouTube from links below.
Click here to view – Paper 1
The Maths Tutor

The Maths Tutor is an online support companion for both Junior and Leaving Certificate Maths. Its packed full of videos, exam papers, tips and much more. Teachers can avail of free membership while students can take a free one months trial to get started.
Click here to view
UCD Leaving Certificate Maths Videos

These videos were designed and produced by UCD Maths Support Centre tutors Rowland Bennett, Anthony Cronin, Kaitlin Farrell, Emma Howard and Christopher Kennedy. The 143 videos cover both the Higher Level and Ordinary Level Leaving Certificate mathematics courses.
The Dublin Academy of Education

The Dublin Academy of Education have created a YouTube channel packed full of videos to help students revise for the Leaving Certificate exams.
Click here to view
Junior Achievement Ireland
Junior Achievement Ireland have created resources focusing on enterprise, employability skills, financial literacy as well as the value of STEM - take the mystery out of negotiating the path from school to a career that suits each student's individual strengths.
Classroom Guidance Free for all Secondary School Students

Classroom Guidance is now available for free due to Covid-19. Students can now access the teaching presentations they would have seen in class.